Three Fabulous Free Virtual Public Education Events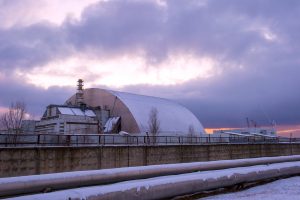 As we celebrate Earth Day and commemorate the 35th anniversary of the Chernobyl nuclear disaster in 1986, three free virtual events are taking place between now and Friday, April 30th.  They are the Taos Environmental Film Festival and Conference; the Building Political Support for the Nuclear Ban Treaty webinar; and the Native American Forum on Nuclear Issues.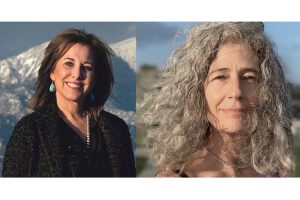 In honor of Earth Day, Thursday, April 22nd, two outstanding New Mexico Poets Laureate, Catherine Strisik of Taos, and Elizabeth Jacobson of Santa Fe, will read their poetry beginning at 7:30 pm.  For more information and zoom links, please visit https://taosenvironmentalfilmfestival.com/somos-information-1/
The free and virtual Taos Environmental Film Festival begins on Friday, April 23rd and continues through Sunday, April 25th.  For a listing of the films, please visit https://taosenvironmentalfilmfestival.com/
Along with the Film Festival, an Earth, Wind, Fire, Water and Spirit Conference, with a focus on the Environmental and Peace, will be held virtually.  Local, national and international leaders will speak about the two existential threats, nuclear weapons and climate change, as well as the military, forests, oceans, education, social justice, and peace.
The free zoom conference takes place from Friday, April 23rd through Sunday, April 25th from 11 am to 1 pm Mountain Daylight Time.  There will be two one-hour sessions, one at 11 am and the other at noon.   For more information and registration, please visit https://taosenvironmentalfilmfestival.com/conference-information/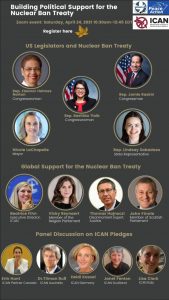 On Saturday, April 24th, the International Campaign to Abolish Nuclear Weapons, Massachusetts Peace Action, and Nuclear Ban US host a virtual webinar, Building Political Support for the Nuclear Ban Treaty.  Speakers include U.S. and international lawmakers.  The webinar will take place from 8:30 am to 10:45 am Mountain Daylight Time.  To register, please visit http://www.nuclearban.us/
On Monday, April 26th, the Native Community Action Council, in partnership with Native Americans for Restorative Stewardship, will present a virtual and free five-day speaker series.  A number of well-known speakers and artists concerned about the impacts of nuclear issues on Native American communities will present.  The event, named the 2021 Native American Forum on Nuclear Issues, will commence on Monday, April 26th and continue until Friday, April 30th, beginning each evening at 6 pm Mountain Daylight Time.
Speakers include Winona LaDuke, Tom Goldtooth, Carletta Tilousi, Steve Newcomb, Kandi White, Myron Dewey, Tommy Rock, Manny Pino, Joe Kennedy, and Ian Zabarte.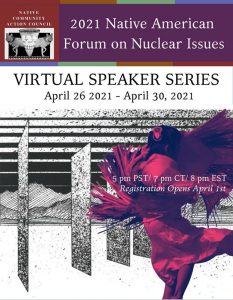 Featured artists include Jack Malotte, Sorren Thunder Richards, Sarah Caligiuri, and Bryan Hudson, among others.  To register for your complimentary ticket, please visit https://tosavetheworld.ca/events/the-native-american-forum-on-nuclear-issues-nafni-2021/
---

Did You Know?  We are Podcasting!
1.  Every Friday and Saturday from noon to 1 pm
– Protest LANL signing a 10-year lease (for the former Descartes building) to establish itself "permanently" in Santa Fe at the corner of Guadalupe and W. Alameda.  JOIN Veterans for Peace, CCNS,  Nuclear Watch NM, and others.  We'll have banners.  Please bring a sign.
2.  TONIGHT: Th. April 22nd from 6 to 7:30 pm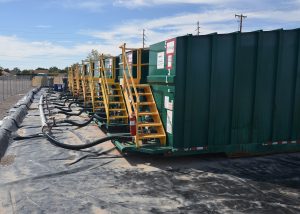 – Virtual open house for the Kirtland Air Force Base Bulk Fuels Facility.  You will need to download Adobe Connect software to participate.  See excerpts below from a KAFB email:   
"Attendees will need to download the free Adobe Connect software to join the virtual meeting. It is suggested this be done in advance of the meeting date and time. The updated software can be downloaded at https://helpx.adobe.com/adobe-connect/connect-downloads-updates.html.
"Community members interested in joining the virtual open house can join using the following internet connection: https://ceschool.adobeconnect.com/afcec/
"An updated presentation will be provided that will include a project status update and a question and answer period. To submit questions, e-mail brannon.lamar@us.af.mil.
"If you would like additional information, please contact Brannon Lamar at 377 Air Base Wing Public Affairs at (505) 639-8420 or by email, brannon.lamar@us.af.mil.
3.  Wed. April 28th –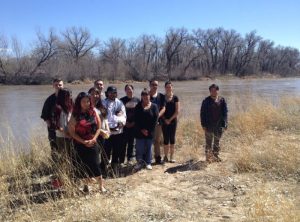 Communities for Clean Water (CCW) will be a featured community organization, as part of the Peace Development Fund "Healing Our Communities and Our Land," during its Grassroots Funding Week. CCNS is a founding member of CCW.  Please support our collective work to hold LANL accountable on surface and groundwater issues by making a donation.  Thank you!  https://www.mightycause.com/story/Supportcommunitiesforcleanwater
4.  Wed. April 28th –
Santa Fe City Council will vote up or down on resolution, introduced by Councilor Renée Villarreal, to leave the Regional Coalition of LANL Communities (RCLC). The agenda has yet to be posted.  Check here:  https://santafe.primegov.com/public/portal#   
Note:  The hearing may be delayed for two weeks due to illness.  Stay tuned.
5.  Mon. May 17th – Fri. May 21 –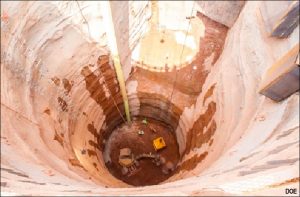 Virtual Public Hearing about Proposed Shaft for the Waste Isolation Pilot Plant (WIPP). For more information:  NM Environment Department at https://www.env.nm.gov/hazardous-waste/wipp/ (scroll down to March 10, 2021 entry); Stop Forever WIPP Coalition at  https://www.facebook.com/StopfvrWIPP/ ; and CCNS at http://nuclearactive.org/ See a five-part Stop Forever WIPP Coalition series about the proposed shaft, the public hearing, how you can participate, and sample comment letters you can use.
Tags: Building Political Support for the Nuclear Ban Treaty, Chernobyl, Earth, Earth Day, fire, International Campaign to Abolish Nuclear Weapons, Massachusetts Peace Action, Native American Forum on Nuclear Issue, Native Americans for Restorative Stewardship, Native Community Action Council, Nuclear Ban US, Taos Environmental Film Festival and Conference, Water and Spirit Conference, Wind