War in Ukraine Creates a Planetary Nuclear Wake-Up Call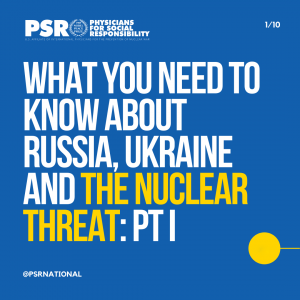 This week the Nuclear Age Peace Foundation held a virtual presentation by Cynthia Lazaroff and Richard Falk about the nuclear dangers in Ukraine.  They are both experts on the geo-politics of the Russian-Ukrainian conflict and the threat or use of nuclear weapons.
Lazaroff described the current situation as a "planetary nuclear wake-up call."  She advised, "The only way to prevent one person or nine nuclear-armed countries from holding the whole world hostage and unleashing nuclear Armageddon is to abolish,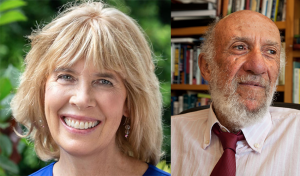 eliminate and ban nuclear weapons forever.  If we survive this, we will have another chance to get this right and move as quickly as possible toward the total elimination of nuclear weapons."
Lazaroff continued, "It is a moral and existential imperative that we support the Treaty on the Prohibition of Nuclear Weapons.  As the calls for more weapons and more defense spending rise across the US and Europe, I have no illusions about the formidable obstacles in the way of achieving this.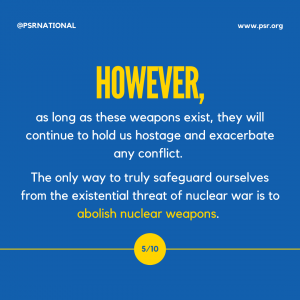 "Our work in the peace and nuclear abolition movements may be harder now, but if we stand together it will be easier."
Lazaroff is an award-winning documentary filmmaker and founder of Women Transforming Our Nuclear Legacy.  https://www.nuclearwakeupcall.earth/women-s-project  An expert on US-Russia relations, including on the history, geopolitics, military, cyber and escalating nuclear risks between these two countries, she has been engaged in Track II citizen diplomacy and mediation efforts with Russia since the early 1980s.  https://www.cynthialazaroff.com/
Richard Falk warned about the demonization of Russians.  He asked the audience to be careful with the words we choose and reminded us that even during the Cold War Russians were not demonized.
Falk is a professor emeritus of international law at Princeton University. In 2008, the United Nations Human Rights Council appointed him to a six-year term as a UN Special Rapporteur on human rights in the Palestinian territories occupied since 1967.  https://politics.princeton.edu/people/richard-falk
Lazaroff called for us to stand together.  She spoke in support of Dmitry Muratov, the Editor-in-Chief of Russia's independent newspaper, Novaya Gazeta, and winner of the Nobel Peace Prize last fall.  https://www.nobelprize.org/prizes/peace/2021/muratov/facts/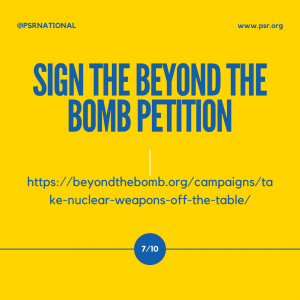 Muratov declared, "Only a global anti-war movement can save life on this planet."  https://novayagazeta.ru/ and  https://www.aljazeera.com/news/2022/3/28/russias-novaya-gazeta-newspaper-suspends-activity-after-warning
Lazaroff said she learned on Monday that publication of the independent newspaper was suspended; however, "[W]e have to stand with Dmitry and build this global anti-war movement together."
In conclusion, Lazaroff poignantly said, "Our work is more important now than ever."
The presentation is posted on the Nuclear Age Peace Foundation website at https://www.wagingpeace.org/past-events/ and on YouTube at https://www.youtube.com/watch?v=ZVfiLYGOLcM.
---

Friday, April 1st and Saturday, April 2nd – Tularosa Basin Downwinders Consortium – Annual Peaceful Demonstration at Stallion Gate of the White Sands Missile Range and Carrizozo Downwinders Educational Fiesta. For more information, visit https://www.trinitydownwinders.com/    
Saturday, April 2nd Trinity Site at White Sands Missile Range open from 8 am to 2 pm – COVID-19 Vaccination and Reservations are Required. https://www.wsmr.army.mil/Trinity/Pages/Home.aspx
Monday, April 4th, Albuquerque City Council considers Memorial entitled, "THE CITY OF ALBUQUERQUE CITY COUNCIL URGES THE U.S. FEDERALGOVERNMENT TO SUPPORT THE UNITED NATIONS TREATY ON THE PROHIBITION OF NUCLEAR WEAPONS, REAFFIRMING ALBUQUERQUE AS A NUCLEAR WEAPONS FREE ZONE. The virtual meeting begins at 5 pm.  At the time of this posting, the agenda is not available.  https://cabq.legistar.com/Calendar.aspx  For more information, please contact Bill Tiwald, Veterans for Peace, Donald and Sally-Alice Chapter in Albuquerque, at tiwaldbill@gmail.com
Monday, April 4th at 7 pm at Duane Smith Auditorium, 1300 Trinity Drive, Los Alamos, NM – J. Robert Oppenheimer Memorial Committee Lecture on "MANHATTAN: The View from Los Alamos of History's Most Secret Project," by Alan B. Carr.  https://jromc.org/2022/02/03/lecture-manhattan-the-view-from-los-alamos-of-historys-most-secret-project-by-alan-b-carr-april-4-2022/
Wednesday, April 6th from 5:30 to 7 pm – Virtual Los Alamos Community Engagement Meeting, hosted by the New Mexico Environment Department (NMED). Focus:  Biogeochemical Remediation of the Chromium Plume by Dr. Patrick Longmire, Principal Aqueous Geochemist, NMED Ground Water Quality Bureau.  https://www.env.nm.gov/events-calendar/?trumbaEmbed=view%3Devent%26eventid%3D158748985
Public comments are encouraged on Tuesday, April 12th at noon and 5 pm and Wednesday, April 13th at 9 am.  For more information, visit Amigos Bravos at https://www.amigosbravos.org/causes/pecos-onrw-petition/ and scroll down to take action and/or https://www.amigosbravos.org/take-action-pecosonrw/
To review the docket and submit comments, go to:  https://www.env.nm.gov/opf/docketed-matters/ and scroll down to WQCC 21-51 (R) In the Matter of Petition to Designate Surface Waters of the Upper Pecos Watershed as Outstanding National Resource Waters.
Saturday, April 23, 2022 from 8 am to 5 pm – Symposium on Rocky Flats: Impacts on the Environment and Health. Brought to you by Physicians for Social Responsibility (PSR) Colorado and The Colorado Medical Society.  This Symposium will span topics ranging from the history of Rocky Flats, contamination issues still plaguing the area, legal issues, critical analyses of epidemiological studies, and effects of radiation on the genome and epigenome.  Everyone, regardless of education or career background, is welcome to register.  For more information:   https://www.psrcolorado.org/
Tags: Armageddon, Cynthia Lazaroff, Dmitry Muratov, Editor-in-Chief, global anti-nuclear movement, Nobel Peace Prize, Novaya Gazeta, nuclear abolition, Nuclear Age Peace Foundation, peace, planetary nuclear wake-up call, Princeton University, Richard Falk, Russia, Track II citizen diplomacy, Treaty on the Prohibition of Nuclear Weapons, Ukraine, UN Special Rapporteur on Human Rights in Palestinian Territories, United Nations Human Rights Council, Women Transforming Our Nuclear Legacy