May 9th New Mexico Water Quality Control Commission Hearing about CCNS and HOPE Standing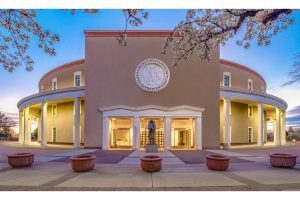 Honor Our Pueblo Existence (HOPE) and CCNS will be before the New Mexico Water Quality Control Commission on Tuesday, May 9th at the New Mexico State Capitol to argue that they have standing to challenge the groundwater discharge permit, DP-1132, for the Radioactive Liquid Waste Treatment Facility at Los Alamos National Laboratory (LANL).  https://www.env.nm.gov/events-calendar/?trumbaEmbed=view%3Devent%26eventid%3D165936752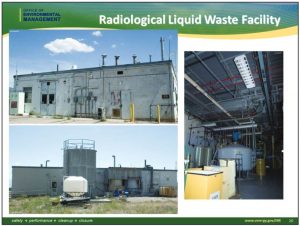 The Hearing Officer, who reports to the Commission, recommended to the Commission that the non-governmental organizations do not have standing.  https://www.env.nm.gov/opf/docketed-matters/ , scroll down to WQCC 22-21:  CCNS and HOPE's Petition for Review of NMED Ground Water Discharge Permit DP-1132.  See April 6, 2023 entry for the Hearing Officer's Report.
On April 7th, 2023, CCNS and HOPE submitted comments on the Hearing Officer's Report on Standing, which were not listed on the Docketed Matters page.    2023-04-10 WQCC 22-21 Petitioners' Comments on Hearing Officer's Report on Standing pj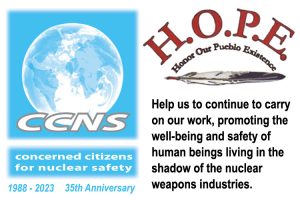 HOPE and CCNS are challenging DP-1132, issued to LANL under the New Mexico Water Quality Act.  https://shuffle.do/projects/honor-our-pueblo-existance-h-o-p-e They are arguing that the Radioactive Liquid Waste Treatment Facility handles, treats and stores hazardous waste, and therefore must be regulated by the New Mexico Hazardous Waste Act.
Further, the New Mexico Water Quality Act contains a limitation that no Water Quality Act permit may be issued if the Hazardous Waste Act covers a facility. The limitation reads at § 74-6-12 NMSA 1978:
B. The Water Quality Act does not apply to any activity or condition subject to the authority of the environmental improvement board pursuant to the Hazardous Waste Act [Chapter 74, Article 4 NMSA 1978], the Ground Water Protection Act [Chapter 74, Article 6B NMSA 1978] or the Solid Waste Act except to abate water pollution or to control the disposal or use of septage and sludge.  [Emphasis added.] 
The Environment Department and LANL have ignored that limitation, sacrificing proper regulation of the old and two new Radioactive Liquid Waste Treatment Facilities.
LANL submitted its plans and specifications to the Environment Department for two secret new facilities located next door to the old treatment facility, for permitting under the Water Quality Act without any public process.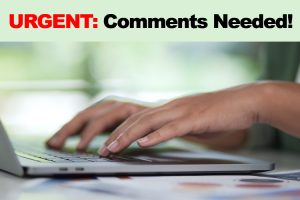 Those plans were approved by the Environment Department, with conditions, and construction of the first of the two facilities is almost complete.
Under the Hazardous Waste Act, LANL would have had to submit a permit modification request to the Environment Department.  There would have been public notice of the request and opportunity to submit public comments.  The public would have had the opportunity to request a public hearing, at which the public could present evidence, cross-examine witnesses and make final arguments in support or in opposition to the new facilities.  The Hazardous Waste Act provides more public access to the regulatory process because of the greater danger of hazardous waste, which are capable of harm to human health or the environment.
Please support the challenge by sharing this Update with your communities.  This is an essential issue because of the expansion of nuclear weapons work at LANL.  All three of the Treatment Facilities would process liquid radioactive and hazardous wastes from the fabrication of plutonium pits, which are the spherical triggers for nuclear weapons, at the Plutonium Facility.
Please submit written or oral comments before or at the in-person or virtual Tuesday, May 9th public hearing.  Please support this essential and expensive work with a financial contribution!  Thank you!   230427 f Dear friends
Here is a sample comment letter for your use:  230427 f Public comments to WQCC Members
---


Did You Know about these Opportunities to Get Involved?
Monday, May 1st – Last Day for DIRECT ACTION, a solo exhibition by Mexican artist PEDRO REYES at Site Santa Fe. Over the course of his career, Reyes' work follows a double path:  art as aesthetic research, and art as social practice.  Reyes explores New Mexico's unique and local nuclear history with the nuclear industry.   https://sitesantafe.org/exhibition/pedro-reyes/
Monday, May 15th – Los Alamos National Laboratory – Comments due to the NM Environment Department about the draft permit about a New Container Storage Area to TA-60. https://www.env.nm.gov/hazardous-waste/lanl-permit/ , scroll down to Permit News – March 13, 2023
Tuesday, May 23rd – White Sands Missile Range – Comments due to the NM Environment Department about the draft Hazardous Waste Permit. https://www.env.nm.gov/hazardous-waste/wsmr/  , scroll down to Draft Permit.
Tags: CCNS, Concerned Citizens for Nuclear Safety, Department of Energy, DOE, DP-1132, Hearing Officer, Honor Our Pueblo Existence, HOPE, LANL, Los Alamos National Laboratory, National Nuclear Security Administration, New Mexico Environment Department, New Mexico Hazardous Waste Act, New Mexico Water Quality Act, New Mexico Water Quality Control Commission, NMED, NNSA, Petitioners' Comments on Hearing Officer's Report on Standing, plutonium pits, Radioactive Liquid Waste Treatment Facility, RLWTF, spherical triggers of nuclear weapons, WQA limitation § 74-6-12 NMSA 1978, WQCC